Ross McConnell Testifies to Nebraska Legislature in Support of Nuclear Workforce Development
Posted on 3.1.2023 by Day & Zimmermann
DZ Atlantic President Testifies to Nebraska Legislature in Support of Nuclear Workforce Development – Part 1 of 2

DZ Atlantic President Ross McConnell and Day & Zimmermann Senior Vice President of Nuclear Operations James Chesnut testified February 16 before the Nebraska Legislature's Natural Resources Committee in support of Legislative Bill 568, the Nuclear and Hydrogen Development Act. The bill, sponsored by Nebraska Senator Bruce Bostelman, would fund an industry work group to identify the workforce training needs of the nuclear and hydrogen industries and to develop education training courses in collaboration with Nebraska community and state colleges.
Read Ross' full testimony below to learn why funding workforce training for the nuclear and hydrogen industries matters to Nebraska, to companies like D&Z, and to our nation's future.
Read James Chesnut's testimony to the committee in Part 2 of this blog series here.
Good afternoon, I'm Ross McConnell, president of DZ Atlantic, Day & Zimmermann's open shop business unit. Thank you for this opportunity to voice D&Z's support for Legislative Bill 568 to adopt the Nuclear and Hydrogen Development Act. This is an important contribution toward elevating the value of skilled craft jobs among young people and their parents here in Nebraska.
D&Z is a 120-year-old family owned, private company that provides maintenance and construction services for 54% of the operating nuclear reactors in the U.S. And we perform all of the maintenance work for nuclear utilities that use open shop, or non-union, labor, like Cooper Nuclear Station, where we've been the contractor for the past 19 years.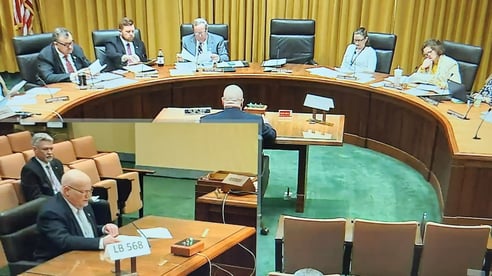 Skilled craft professionals such as carpenters, welders, pipefitters, electricians — to name a few — are the backbone of our modern energy infrastructure. Today, demand for skilled craft jobs is skyrocketing and competition for this talent is greater than ever. Fueling this demand are tax incentives to keep existing nuclear plants competitive, an influx of government funding to build next-generation energy technology like small modular reactors, infrastructure investments, and competition for craft skills from other industries including Amazon, semi-conductors, and EV manufacturing. The problem is that demand for these jobs is nowhere near the supply.
Like a lot of contractors in our industry, 2022 was a struggle – after COVID we are seeing a 15-25% reduction in skilled craft availability across the country. Even with all of our tools, programs, processes, and partnerships, it's been difficult to secure talent for our nuclear outage work because the behavior of transient workers seems to be changing. We're learning that regardless of labor posture, more and more skilled craft workers want to stay closer to home, which is why supporting this bill is so important to the state of Nebraska.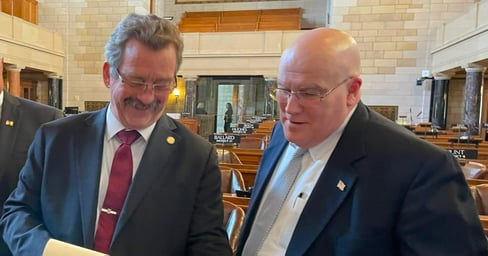 (Above: Senator Bruce Bostelman, the bill's sponsor, and Ross McConnell discuss Bill 568)
This is a critical first step in developing the story that skilled craft jobs offer good pay, with meaningful work and enough opportunities for long, satisfying careers. For decades, education systems have been less focused on practical skills that craft workers provide and has further fostered our society's blue-collar bias.
Let me be clear, the skilled craft labor shortage is a problem NOW. This is not something we're facing in the future with the onset of advance nuclear technology. Just as Nebraska is having a tough time keeping generational farming in the family, we too are losing second and third generation craft workers. For example, of the nearly 2,500 craft workers we've hired for outages over the past 10 years at Cooper, only 26% has come from in-state. Addressing the shortage is critical to our company, it's critical for the state of Nebraska, and its critical to America.
Workforce development efforts like those proposed in this bill will build a valuable pool of skilled labor right here in Nebraska and will connect those trained residents to plentiful, good- paying, and flexible careers.
I know workforce development partnerships succeed because D&Z has seen it firsthand through our involvement in educational partnerships with high schools, community colleges, and vocational schools to encourage students to pursue craft careers. We have worked closely with our customers for a long time to address specific workforce needs and have been successful in building regional hubs to address labor market challenges in Virginia, North and South Carolina, Arizona, and the Gulf region including Texas.
We also collaborate with industry training organizations like EPRI, which is the Electric Power Research Institute and NCCER, the National Center for Construction Education and Research, and the National Academy for Nuclear Training e-Learning to incorporate industry-specific training into our educational partnerships and prepare workers for getting started on the job faster.
We must begin challenging our community colleges, vocational schools, and even K-12 school districts to increase the profile of skilled craft workers, develop career road maps, and establish industry-relevant training programs. And then we must celebrate these career choices with the same support and enthusiasm we do for athletes on college signing day.
It starts with communicating the value of these jobs and making training readily accessible in local communities. That's why I firmly believe in supporting Legislative Bill 568, and I ask for your support, as well.
Thank you.
Topics