James Chesnut Testifies to Nebraska Legislature in Support of Nuclear Workforce Development
Posted on 3.1.2023 by Day & Zimmermann
Sr. VP of Nuclear Testifies to Nebraska Legislature in Support of Nuclear Workforce Development – Part 2 of 2
Day & Zimmermann Senior Vice President of Nuclear Operations James Chesnut and DZ Atlantic President Ross McConnell testified February 16 before the Nebraska Legislature's Natural Resources Committee in support of Legislative Bill 568, the Nuclear and Hydrogen Development Act. The bill, sponsored by Nebraska Senator Bruce Bostelman, would fund an industry work group to identify the workforce training needs of the nuclear and hydrogen industries and develop education training courses in collaboration with Nebraska community and state colleges.
Read James' full testimony below to learn how he entered the nuclear industry as a journeyman painter, the growth and leadership opportunities the industry opened for him, and why workforce training has become a favorite aspect of his job.
Read Ross McConnell's testimony to the committee in Part 1 of this blog series here.
Good afternoon. Thank you for the opportunity to voice my support for Legislative Bill 568.
I'm James Chesnut, senior vice president of nuclear operations at Day & Zimmermann where I have responsibility for all open shop nuclear maintenance, radiological services, and valve services.
Nuclear workforce development and helping young people get interested in skilled craft work are of great importance to me. I strongly believe that getting in front of people to raise awareness of these career paths is where we need to be.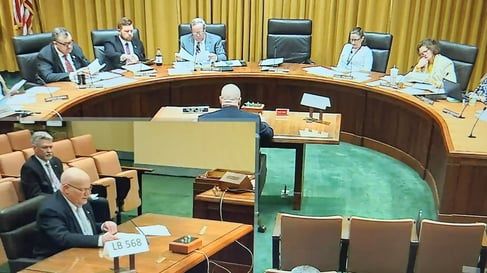 Skilled craft work in the nuclear industry has been a significant piece of my growth and development. I am a prime example of how early training in technical disciplines matters and how blue-collar jobs can lead to long, fulfilling careers.
I got into skilled craft work as a journeyman painter and followed my dad into the nuclear industry. I grew up in Georgia on a ranch where we specialized in horses used for cattle ranching and for show. When I was 14, my dad taught me how to paint because farmers needed to repaint their equipment in the off season.
When Alabama Power started construction of Farley Nuclear Plant, my dad and uncles started working there as painters and carpenters. Not long after at age 18, I graduated and started at Farley working as a journeyman painter in the local union hall. Because I acquired equipment-painting skills at such a young age, I was the youngest journeyman on the crew and had significantly more experience than the rest.
I remember working at Farley and feeling that this huge construction project to provide nuclear power I was involved with was part of something great. I've never lost that feeling about nuclear energy's significance. The nuclear industry is still doing great things, and it's the boots-on-the-ground efforts of skilled craft and technicians who will build our modern nuclear energy infrastructure. We must not lose sight of the workforce development resources needed to raise awareness and communicate the value of this important work.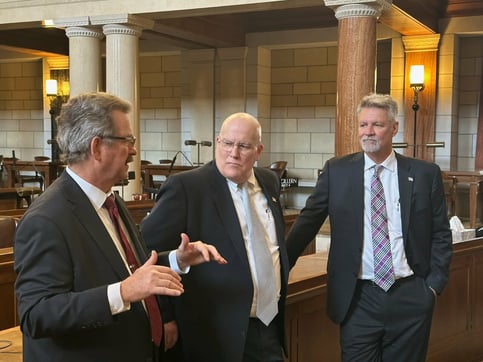 From L: Sen. Bostelman, Ross McConnell, and James Chesnut discuss Bill 568)
My dad remained in the nuclear industry and spent a total of five years at Cooper Nuclear Station over two assignments as site manager. After Farley, I acquired additional training, furthered my education in business and project management, and gained experience at nuclear generating stations in maintenance, construction, engineering, and outage management. Eventually, I found my way to Arizona at the nation's largest nuclear facility, Palo Verde. As I've grown in leadership positions through the industry, I've also had the pleasure of supporting Cooper in oversight roles since 2012.
My nuclear career has carried me across the country. No matter where I travel for my work, my favorite part of the job is helping young people find their way into great careers in the nuclear field. This is why I support this bill. Young people need to be aware of career paths, like mine, that are available to them in the nuclear energy industry.
Every chance I get, I advocate for skilled craft jobs in nuclear energy because it's critical to advancing our industry and our country. I work with community colleges helping to design or enhance nuclear power training programs and curriculum. I'm currently active in Arizona at West-MEC, which is Western Maricopa Education Center—a career training facility for local high-school students. I'm also the D&Z representative for the Supplier Advisory Committee with NEI, or the Nuclear Energy Institute, where workforce development analysis is a critical focus of our work.
With NEI, we just completed a study that identified a large gap in the available workforce between 25 and 55 years old, prime working ages. Identifying the needs is the first step, and in my experience, effective training and mentoring programs like those offered through career training colleges help prepare the next generation and adults changing their careers.
Introducing people to skilled craft jobs, mentoring them through career development classes, helping them to interview with executives like me matters. Doing so sets people up to enjoy meaningful, secure careers in the nuclear industry.
Knowing what I went through over my 40-year career, I have been able to use my experience in the nuclear industry to mentor many young people — at my job, in my community, in my family and even my sons' friends. In addition to my own kids, I raised three boys who came from broken homes and introduced them to careers in nuclear maintenance, which was a game changer.
Today, these young men have successful nuclear careers and families of their own. They are yet another example of how when we build relationships with young people, introduce them to career paths in nuclear, and lead them to the proper training, it can change the trajectory of their lives and transform the communities they live in for generations.
This is why you need to support Legislative Bill 568 and invest in nuclear workforce training and bring jobs to Nebraskans.
Thank you.
Topics