There is widespread awareness and a growing sense of urgency for the need to reduce fossil-fuel emissions and slow the effects of climate change.
Just a decade ago, however, even moderate reductions in emissions from the industrial sector seemed like a costly proposition, unlikely to meet the scrutiny of accountants and shareholders. Today, many manufacturing companies are making significant reductions in their energy and water usage. We are even seeing giant, energy-intensive companies pledging to reach net zero emissions before the end of this decade.
Some of this is clearly due to the rapid decline in the cost of renewable energy, particularly wind and solar. But there are other financially-solid reasons companies should be looking to reduce the impact their operations have on our environment. Below are just a few examples of why forward-looking businesses are seeing this as an opportunity they can't afford to miss.
The fear of getting leap-frogged. Most of our existing power and transportation infrastructure is based on more than 100 year-old technologies and systems. They usually work, but are prone to disruptions as they weren't designed to be resilient and are generally under maintained. This is demonstrated by the fact that power outages are increasing in the US1. Many developing countries don't have such aging systems and are implementing better and more resilient power systems as they build for the first time. As competition is now global, businesses with more reliable power and infrastructure will come out on top.
Clean air provides health and well-being benefits. Even though the air quality in the U.S. is better than it was 50 years ago, economic damages attributable to air pollution equate to hundreds of billions of dollars annually in the US2. This damage is largely due to increases in respiratory illnesses and premature deaths. Reducing emissions by embracing cleaner energy can promote a healthier, more productive population. These benefits go far beyond the balance sheet.
Customers and Investors are taking notice. Business are increasingly committing to renewable energy and net-zero carbon emissions because they know it's important to their customer base and to their shareholders. Adults aged 18-34, a coveted demographic for many businesses in the US, are much more likely to see climate change as a significant issue requiring urgent action than older adults. Consumers of all ages are beginning to take notice of whether the companies that provide their goods and services are committed to reducing pollution. Socially-responsible investment funds are now offered by most large investment companies and are rapidly growing in percentages of portfolios. Also known as Environmental, Social, Governance (ESG) funds, these investments are typically divested from large fossil fuel interests, focusing on clean energy and those companies committed to making a positive impact.
Clean energy and reduced emissions are huge opportunities and should be thought as economic investments that will pay for themselves many times over. Companies that commit to reduced emissions and even carbon-free operations will see the benefits in increased competitiveness, reduced operating costs and increased good will from customers and investors.
1, https://yaleclimateconnections.org/2021/02/why-the-power-is-out-in-texas-and-why-other-states-are-vulnerable-too/?gclid=Cj0KCQiA1pyCBhCtARIsAHaY_5dwOmVg--gDFG5EiND5pg7P7JS7Ik8qk2I-wWZ9U5SJAr1G67Xwcv4aAkX3EALw_wcB
2. https://earth.stanford.edu/news/how-much-does-air-pollution-cost-us#gs.vlshng
https://e360.yale.edu/digest/air-pollution-from-fossil-fuels-costs-8-billion-per-day-new-research-finds
https://www.frontiersin.org/articles/10.3389/fpubh.2020.00014/full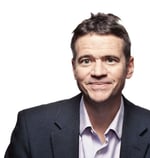 Rob McAtee is founder and director of Mason & Hanger's Energy and Sustainability Services department, a special entity within the company dedicated to increasing facility performance, improving energy productivity, and promoting sustainability. Prior to his current role, Rob was the Director of Mechanical Engineering at the firm where he led a large department of professionals designing HVAC, plumbing, fuel, and cogeneration systems for high-performance and mission-critical facilities. He began his career with Siemens Power Corporation in a group dedicated to improving the safety of nuclear power plants in the U.S. and Europe. Rob holds a degree in mechanical engineering from the University of Virginia. He is a registered professional engineer, Certified Energy Manager, and LEED Accredited Professional in Building Design and Construction.