In a series of posts, we're exploring the concepts encompassed by the term "diversity, equity, and inclusion" (DEI). After an introduction to the topic and a deeper dive into the topic of diversity, this post will focus on equity and how it fits into a broader DEI framework.
To understand equity in context of opportunities in the workplace and beyond, it's important to establish a few definitions. Dictionaries define equity as "the quality of being fair and impartial." Often, this concept of equity is confused or combined with "equality." Equality is defined as the state of being equal, especially in status, rights, and opportunities."
Too often, these words are used or understood interchangeably, when in reality their difference marks a fundamental aspect of the larger DEI conversation. Equality focuses on making things equal without context. Equity incorporates that context.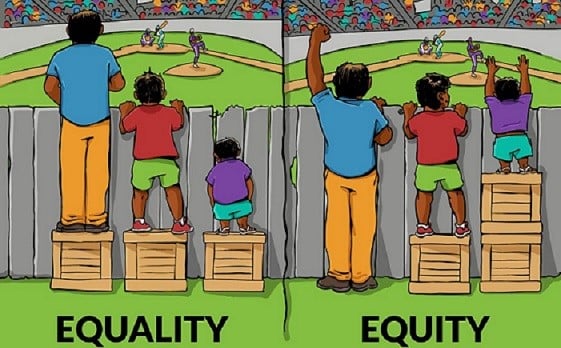 Interaction Institute for Social Change | Artist: Angus Maguire.
The illustration above demonstrates the difference between equality and equity. It highlights the challenges of limiting our focus to only equality. If the objective is to give everyone the access and opportunity to watch the game, equality comes up short in making that happen.
Realizing Equity Across Institutions and Organizations
We see similar challenges play out across different parts of society, from access to healthcare to higher education to the workplace. While our nation's laws are structured to ensure equality, we still have work to do in ensuring equity.
Or, put another way: If equality is the ideal result we're hoping to achieve, equity is our path to get there.
Pursuing equity means recognizing and acknowledging the disadvantages certain groups face within various systems. These disadvantages are felt most prominently among marginalized groups such as people of color, LGBTQIA people, and Indigenous peoples.
At Day & Zimmermann, we recognize these systemic challenges and strive to foster an approach and environment that gives people what they need. Through initiatives like our Executive Diversity & Inclusion Board and a variety of internal and public-facing partnerships and organizations, we're focused on widespread equality gaps present in society, as well as those specific to our industries and our populations. We're committed to closing those gaps and amplifying voices that can help create a more equitable workplace.
When it comes to racial justice specifically, we recognize that we as a society have essential work to be done. More than a year after George Floyd's death and the movement that followed, we have not lost our focus on fostering a space that empowers all individuals to thrive and promoting equity in all forms for our team members. We value diversity because it is the key to building a culture that enables our employees to collaborate and generate innovative ideas for our customers. We're open to learning and refining the best ways to accomplish this goal and will continue to strive for a more equitable workplace in all ways.
Next, in our final piece of this series, we will explore inclusion and what it means for organizations like Day & Zimmermann to uplift and validate diverse voices.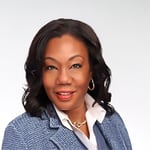 Regina Blair is an organizational development and diversity and inclusion leader currently serving as Vice President, Talent, Diversity & Inclusion at Day & Zimmermann. While key responsibilities include oversight of the engagement survey process and action planning, design and delivery of leadership development programs, the 360 assessment and coaching process for senior leaders, the corporate employee resource groups and overall diversity strategy, some of her most rewarding work comes through partnering in the design of realtime, custom talent solutions that help advance the business strategy. Career pathing, organizational design, team effectiveness and change management are all areas where her internal clients look to her for leadership.