Our team provided engineering, procurement, and construction services to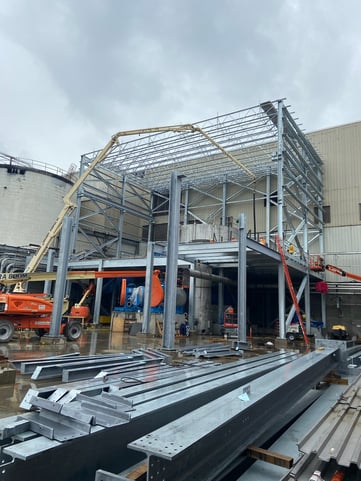 successfully complete a 22,500-square-foot multi-level operating building at a West Virginia paper mill for a confidential client. Here are the project highlights:
Completed project on-time with no injuries, no weld rejects, and no leaks during the hydro test

Craft exceeded 26,000 man hours

Utilized the National Maintenance Agreement—direct hired ironworkers, boilermakers, millwrights, laborers, pipefitters, and operating engineers

Utilized 50-ton, 100-ton, and 250-ton cranes to hoist and set equipment and beams

Sourced all steel fabrications and partnered with other union contractors to complete caissons, concrete foundations, and roof installation
The building stands 85 feet tall and measures 120 feet by 150 feet at the base, with multiple roof and operating levels tied into adjacent buildings on two sides. D&Z self-performed steel erection, materials handling and process equipment setting, installation of stainless steel process piping, and construction of a pulper tub with 5,000 cubic foot capacity. D&Z also self-performed the installation of interior liner panels and exterior sheeting with the required insulation, as well as installation of the stainless decking.
Project scopes included engineering for the foundations and structure and general arrangement drawings for more than 20 pieces of equipment installed by D&Z, in addition to completing the following:
(28) 4' caissons, ranging from 15-48 feet deep

20-tons of rebar cages and poured/leveled 784 yards of concrete for the caissons

11-tons of rebar Poured/leveled 246 yards of concrete for the mezzanine floor

2,000 linear feet of stainless steel pipe ranging from 2" to 8"

425-tons of building structural steel, including (50) 85' clear span trusses

Installed pulper tub, multiple conveyors, ragger, tail cutter, drum screen, HD cleaners, extruder, overhead crane, sand separator, trasher, wash tower, and trash well
This successful completion of the West Virginia Paper Mill Building is an example of D&Z's continued commitment to executing complex projects safely and on-time while retaining highly skilled labor to meet the customers' high expectations for quality, innovation, and productivity. Read more about our Industrial capabilities here.