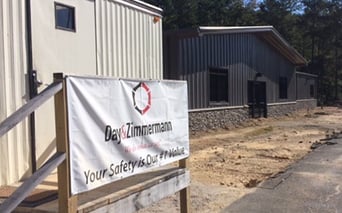 Day & Zimmermann safely completed a 5,000-square-foot renovation, 2,500 square-foot office space addition, exterior refurbishment, and other convenience and aesthetic improvements for the Operating Engineers Local 312 union hall near Birmingham, Alabama.
Throughout the project, D&Z saved the customer more than $170,000 by implementing various improvements to the original plans, including savings on decorative stone installation, HVAC unit, power service, and the foundation for a new safe room. Major scope included the following.
Demolition of remaining original building, concrete, damaged fascia, and steel framing.
Poured and finished more than 100-yards of concrete, including foundation for a safe-room and columns for entryway.
Raised and trimmed out the metal buildings.
Built and finished the front entryway.
Set 1,953 metal studs and track and hung 590 sheets of 5/8" fireproof sheetrock.
Completed various rough carpentry, including approximately 100 linear feet of cabinetry; 50 liner feet of granite counter top supported; framing and trimming out windows, doors, and floors; and building and finishing stage in meeting room.
Completed all plumbing and setting of showers and fixtures.
Completed a 10' x 10' safe-room.
"I believe the appearance of our new Union Hall is the best in Alabama and maybe throughout the Southeast," said OE Local 312 Business Manager. "Day & Zimmermann delivered a finished project that is not only well built and functional, but pleasantly appealing. They made sure every aspect of the construction was exceptional," he continued.
PROJECT HIGHLIGHTS
More than $170,000 in customer savings.
Executed more than 14,000 hours of work without a safety recordable.
Accomplished 175 working days without a safety incident.
Self-performed all civil and mechanical scopes.
Concurrently managed all turn-key installation vendors needed to complete the renovation.