Expanding your Control Network – Untangling the Data
Posted on Jan 13, 2021 11:34:49 AM by Eric Sulkowski
Whether your next project involves a retrofit, upgrade, or expansion, odds are high that some level of data acquisition and automated control will be required in this connected age. In many cases, connecting to an existing network will benefit your organization's ability to operate, manage, and maintain these new additions. To get there, data may need to be translated between protocols, parsed down, and prioritized to ensure crucial information is not lost among the flood of new data coming in.
Although planning such an expansion is not as simple as running an Ethernet cable to the new system, plugging it in, and walking away, having early engagement and alignment between all parties involved in the installation will expedite the process and help drive a predictable outcome. Lack of proactive coordination and ownership of the process will increase risk of encountering incompatibilities at the most inopportune times, resulting in additional costs and schedule delays. The topics detailed below are intended to help your team navigate this process and hopefully benefit all parties involved from the shop floor to the corporate office.
Topics to consider:
1. Understanding Operational Needs
Defining the operational needs early creates a strong foundation for the entire network expansion. These needs can then be passed on to vendors and subcontractors as requirements within their scope and aid in the selection and cost forecasting during the bid cycle. To assist in determining what data is the priority, map the data using this criteria:
Identify systems involved (new system, existing control network, plant data historian, asset management systems, etc). Map the data flow to each one of the systems involved.
Identify what data will be reported from the new system. (alarms, KPI's)
Identify what supervisory intervention is required. (E-Stops, remote operator control)
Identify what data will need to coordinate with upstream/downstream systems.
2. Preparing the Existing Network Infrastructure
Existing control and IT infrastructure plays a key role in the consideration of new network additions. Early internal investigations to the modifications required will contribute to accuracy of project cost estimates and identification of parallel activities to complete before the commissioning of the new system.
Study of available bandwidth, storage, and processing may be required.
Identify where new network components will tie into the existing network.
Reserve applicable ports when identified to minimize conflicts with other site projects.
Depending on location and distance from new system, additional IT backbone and edge switching infrastructure may be required.
Network architecture drawings are helpful to illustrate these interconnections.
Adding networked systems, while beneficial to production, may expose your network to vulnerabilities that can disrupt or lead to theft of data records that may include intellectual property if left unprotected. These vulnerabilities typically occur through local interfaces or through wired/wireless remote support com ports that are becoming more common offerings. The following countermeasures are recommended, but implementation may vary based on individual risk assessments.
Inclusion of firewalls between the new network and the site network.
Utilization of managed switches.
Locking exposed communication ports.
Restricting access to panels containing communication equipment.
Restricting wireless remote access.
3. Protocol Pros and Cons
Where practical, it can be advantageous to select systems that are easily integrated into the existing network by utilizing protocols, products, and services that already exist at your site. Leveraging resources familiar with a product line or protocol can expedite implementation and training. And though it may seem like using the same protocol will be "plug and play" from first glance, unforeseen challenges may still lurk beneath the surface:
Additional software licenses may be required if the control system's tag data limit is exceed.
Software and Firmware updates may be required to integrate new components into the current system, unlock "new features", add screens to HMI's, or maintain existing third party software links.
Another option is to use bridging devices/software to act as a "Rosetta Stone", translating one protocol language to another. These bridges are particularly useful when your preferred site protocol is not the new system vendor's standard offering and may be more cost effective than requesting "an engineered solution". While there are more and more products available to bridge systems with different communication protocols, some caveats remain:
Additional third-party devices may be needed to translate data between protocols that require configuration by plant resources.
Staff will need to be trained to operate/maintain a new software platform.
Additional software licenses may be required.
Proprietary communication cabling may be required.
Conclusion
Similar to any plant expansion project, proactive planning and alignment in the early phases of a project requiring an expansion of the control network can help minimize hidden costs, schedule delays, and drive predictable project outcomes.
Contact us to learn more about how the Day & Zimmermann team can help plan, design, and execute your next control network expansion!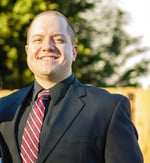 Eric Sulkowski is currently serving as a Principal Engineer leading P&I's Instrumentation and Controls department. He is a highly skilled, adaptable, and solutions driven engineer with over 17 years of diverse control system design/execution experience in both large and small cap EPC projects. He started his career in system integration where he gained valuable experience programming PLC's, fabricating control panels, and completing startup activities at client sites. His career evolution includes leading multiple successful EPC efforts for both new and existing facilities that include diverse DCS and PLC control architectures. His project background includes all phases of design and execution from concept through on site start-up both domestically and internationally. He has significant experience in the following segments: Chemical, Manufacturing, Mining & Metals, Pharmaceutical, and Power (Gas/Nuclear).