Day & Zimmermann provided supervision and craft to remove and replace two feedwater heaters (FWHs) during a planned outage.
The FWHs were stacked on two floors and surrounded by a structure, making them inaccessible to the overhead crane. Working with a specialty rigging company to access the units and maneuver the vessel, the team slid the units forward, jacked them up, and rolled them out on powered saddle rollers to a position where they could be accessed by the crane.
The next-best removal technique would have added three weeks to the project.
The upper unit was slid out, suspended, and lowered through a hole in the floor to follow the path of the lower unit. The upper unit was lowered with air hoists and set on the saddle rollers.
The removal and replacement required significant engineering, including cribbing under the track directly over the support beams on the floor of the turbine deck, where each FWH was moved to be hoisted by the overhead crane.
To install the replacement units, the process was executed in reverse.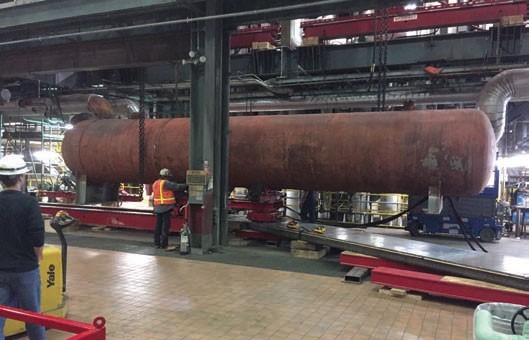 PROJECT HIGHLIGHTS
Completed without an OSHA recordable.
Completed four days ahead of schedule.
Used extensive heavy specialty rigging, including specialized equipment.
Dealt with significant headroom, clearance, and load-bearing issues.