U.S. Embassy
Niamey, Niger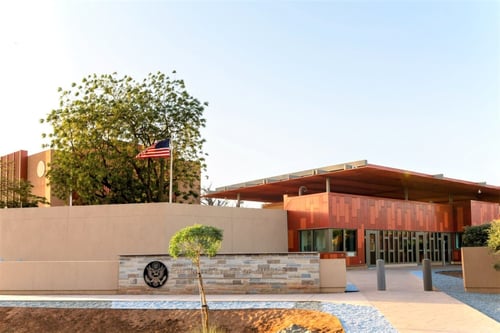 Mason & Hanger provided mechanical, electrical, plumbing, and energy & sustainability services, as a part of the Bureau of Overseas Buildings Operations design team on the new U.S. Embassy in Niamey, Niger. The design responds to the local climate, integrating many energy and water-saving measures into the project. The facility's features, such as low-flow plumbing fixtures, will reduce the demand on the local potable water supply by thirty-six percent. Wastewater from the campus is treated on site and reused for irrigation and infiltration (returned to the water table). Ninety percent of the rainwater that falls on the site will be captured and slowly released.
The embassy design incorporates simple materials to help mitigate Niger's sub-tropical climate, while respecting elements of the Nigerien landscape and historic architecture. By integrating rubbed architectural concrete and multi-colored metal panel sunscreens and canopies, this allows the buildings to reduce solar heat gain and deflect glare, taking advantage of the daylight and creating more comfortable interior spaces that require less air conditioning.
The facility's 712 kW photovoltaic array, or solar power system, produces more than half of the facility's electricity needs. This renewable energy system, combined with energy conserving design elements such as variable speed chillers with variable primary pumping, advanced airside controls, LED lighting and daylight controls, yields over 65% energy savings as compared to a baseline system and earns all of the LEED points for Energy Conservation and Renewable Energy.
These features sum to a project that proudly displays the highest honors for sustainability from the United States Green Building Council (USGBC) – LEED Platinum certification – a symbol of the United States' commitment to an energy efficient and sustainable built environment. Mason & Hanger could not be prouder of this achievement or of our partnership with the Bureau of Overseas Buildings Operations to deliver high quality projects such as this that deliver on our mission of Building a More Secure World.®
Photo courtesy of OBO by Amber Silva Photography