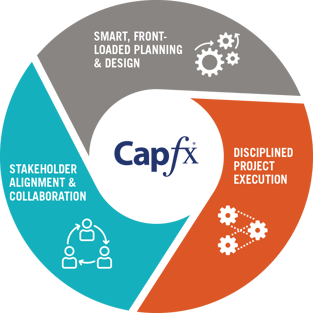 Day & Zimmermann (D&Z) provided engineering (FEL3 and detailed design), procurement, and construction support for a two-year capital project that enabled production of a new product for Bayer Crop Science. Time-to-market was a key driver towards the successful completion of this schedule-driven project.
D&Z quickly rolled out our Capfx® approach, a project delivery process focused on driving capital effectiveness and predictable cost savings. We implemented interactive planning, engineering, and design working sessions–all of which are critical to a successful project. We also assured owner and contractor alignment by facilitating an open dialog on project issues, leading our team to successful solutions for the project.
Project included:

300 P&IDs

20,000 ft. of pipe

600 tie-ins

160 pieces of equipment

600 instruments

Multidiscipline engineering team

Project controls with P6 schedule lead

Multidiscipline estimating

Procurement contracts sourcing and claims lead

Laser scanning by pipe designers
D&Z leveraged the Capfx® approach in the following ways:
Executive steering team alignment

Resource scalability and commitment

pEPC - Early Procurement Engagement

Implementing the stage gate FEED process

Construction Readiness Analysis

Digital Laser Scanning
"What separates success from failure, I believe, are Leadership and Integrity, in particular when working with different groups, organizations, and companies, all of whom must to a certain extent set aside their individual objectives to achieve a common purpose. We did that on this project, which includes Bayer, D&Z, and the other contractors and suppliers who contributed to our success. Thanks to all of you for your effort on the project."

− PROJECT MANAGER, BAYER CROP SCIENCE
Accomplishments and Innovations
D&Z executed this two-year, essential capital project both on time and on budget. Due to proper planning, we completed this project with an engineering duration of 40% below industry average and a construction duration of 15% below industry average. We provided value-engineering solutions that reduced the total installed cost of the project and resulted in a cost savings of $500,000.
These successes were made possible by D&Z earning perfect scores on meeting key dates, flexibility and adjusting to the changing project needs, and overall competency of the project team and achievement of the project objectives.
View Bayer's video on the project here.
Bayer's case study is available here.