Tell us about what you do.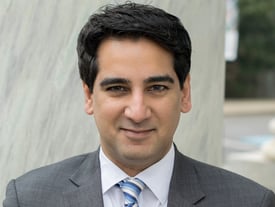 I'm Division Counsel for Government Services, a division of Day & Zimmermann. As an attorney, I work with the business and operational leaders of the company to mainly do two things; minimize legal risk and handle any problems that arise. I interact with other departments within Government Services to figure out their needs in order to offer solutions.
I'm also involved in administering the company's Ethics Program, which works, in part, to achieve the company's diversity & inclusion goals. I support SOC, a government contractor that provides mission support solutions to the United States government, Mason & Hanger, an architecture and engineering firm, and Day & Zimmermann Federal Services, which provides cleared staffing solutions for government programs.
What have you noticed has changed in the law industry since you started pursuing your career?
One thing that has changed a lot is the availability of information on the internet. Today, anyone has the ability to go online, type in a few words about a problem they're having, and view pages of resources that purport to answer their question or deal with their issue. When it comes to legal issues, however, there's not a black or white answer to most questions. There's a lot of strategy, nuance, and thinking that goes into it. These online resources can cause problems, especially for small business that don't want to spend money on legal work.
What do you love most about your job?
No two days are ever the same. Every day that I come to work, there's a new challenge or a new opportunity to do something interesting or exciting. I'm given the opportunity to think outside of the box, to learn, to grow, and to do different things than you might think a traditional lawyer job entails. That helps me in my career, but it also helps the company. We talk a lot about innovation at Day & Zimmermann, and I think a lot of great ideas come from thinking about problems or opportunities in a different way.
What's something about your job that might surprise people?
Some people may be surprised that I don't go to court. I don't appear before judges. I don't handle the day-to-day aspects of litigation that we're involved in. Not everyone realizes being in-house is a different kind of job than a courthouse litigator.
Another interesting thing is that I don't work alone. I work across different divisions and departments and operate horizontally and vertically within the company. I meet and talk to a lot of different people. That's another part of what I love about this job. When people think about lawyers, they sometimes have an old school picture of a stuffy lawyer sitting in his office contemplating an esoteric legal theory. That's not what I do. Day & Zimmermann is very dynamic and very team driven.
What part of your identity makes you a good lawyer?
I'm a naturally curious person and I have a love of learning. I'm constantly learning and wanting to know about other people, things and processes. I think a trait of a good lawyer is to be able to constantly improve, learn and use that knowledge in different contexts. I think I have always been that way and that serves me well in a company like Day & Zimmermann where there are different divisions, departments and business units.
Tell me about the company culture.
The people at Day & Zimmermann live the company's values; Safety, Diversity, Integrity and Success. They live those values every day in every decision that they make and in everything that they do. That's really important to me. Making those values a part of my life is important. One of the reasons I came here and stayed here is because those values aren't just words on a piece of a paper. They really form the decision-making here and how we go about our business.
Any advice for someone pursuing law?
Personal integrity is built over time. It's built in the choices that we make privately and publicly. In my opinion, if you are fully committed to integrity and personal accountability, a lawyer is a great profession.