After the first few months in my new role as President of Government Services, I feel it is important to reflect back on the reasons I first joined Day & Zimmermann. In my travels to our many sites and offices, to learn the business and meet our teams of talented employees face-to-face, I witnessed those reasons first-hand. I now understand these to be the important key drivers which uphold our strong culture, helping us live our core values. These key drivers come down to two simple but critical pieces: our mission and our people. This is our shared motivation and purpose, driving each of us every day.
Regardless of the customer or location, the same consistent value-driven and mission-driven fabric is woven into our team mentality and operations throughout. Our teams across all locations
carry this shared sense of duty and honor. For these reasons, and so many more, I am incredibly proud to support our global teams of talented, patriotic, passionate, and mission-driven professionals– all dedicated to the critical and necessary tasks of supporting the U.S. National Security Mission around the world.
Looking at our collective purpose within Day & Zimmermann: 'We put people to work, we protect our freedoms, and we help our customers power and improve the world' – our integrated security, architectural & engineering, and operations & maintenance businesses are propelling this vision around the world. The ongoing success of this purpose and mission begins with our most valuable resource— our people.
As global innovations evolve, and industries seek to integrate Artificial Intelligence (AI), Machine Learning (ML), and other new technologies into business models, we know we will always rely on the human capabilities of our teams to uphold our underlying core values of Safety, Diversity, Integrity, and Success in everything we do, which enables our mission success.
I believe there are a few key reasons for our unity and strength within Government Services:
Integrity Guiding Our Actions and Safety: As a core value, we live the D&Z promise "We do What We Say", upholding our integrity, guiding everything that we do. This promise to ourselves, our customers, and teams, aids us to fulfill our missions and operations safely, with a focus on doing things the right way, for the right reasons. We maintain the strongest commitment to safety and security for our customers around the world. And, our core values of integrity and safety go hand-in-hand, with no better compass as we navigate very challenging situations in our work of supporting the U.S. National Security Mission.
Diversity, Equity & Inclusion Remains at the Forefront of our Strategy: We cannot talk about the value of our people, without outlining the importance of supporting our professionals by consistently seeking to build diversity, equity, and inclusion within our teams-- resulting in stronger and safer operations and solutions. Diversity is embedded in everything we do, a well-known and lived part of our culture. In line with our D&Z vision, to Accelerate the Next Generation of Innovation, we aim to give our employees the right tools and freedom to be successful; this includes understanding and supporting an employee's personal development, purpose, and path within Day & Zimmermann. We will continue to invest in our team's skills and knowledge, developing our talent and growing our teams with exceptional industry professionals who are aligned with our vision, strategy, culture, and values.
Mission Success Strengthened by our Veteran and Military Workforce: A large majority of our Government Services employees and families have served, or are still serving, in the United States Armed Forces. With such a vast number of Veteran teams, still serving the mission through Day & Zimmermann, we embrace our role as a support element to the Department of Defense and United States Government. Their honorable service to our country is deeply appreciated and honored by our teams, also understanding their commitment to the mission, foundation of discipline, and superior expertise no doubt helps strengthen our teams, operations, and success to support the National Security Mission today. The month of May is Military Appreciation Month, which is a time we pay tribute to all heroes who have previously served, or are serving, in the United States Armed Forces. As a patriotic company, we are forever grateful for their sacrifice to preserve our freedoms. We are honored to work alongside our D&Z heroes, having the privilege to call them our teammates.
Innovation Embedded in our Mission Solutions: Building on the strength of our organization, we continually focus on investing in processes, systems, and tools for our team's success, enabling each employee to perform at a higher level. This includes researching and striving to integrate higher efficiencies, the latest technologies, and tools to remain agile and innovative for our customers. In my time here I have witnessed great strides to improve in all areas, with an eye on emerging technologies that will continue to strengthen our operations and productivity well into the future.
Supporting Global Operations with a Flexible, Hybrid Culture: With a strong geographic footprint—operating around the clock, in locations around the U.S. and overseas—we are focused on maintaining a flexible work environment for our hard-working employees, while still balancing mission requirements, and bringing back in-person collaboration days to invest in career development, leadership training, and facilitate collaboration, innovation, team building, business development, and competitive intelligence.
Our mission and our people are what makes us great. This is what unites and drives all of us within Government Services. With this strength, we will continue to grow, adapt, and respond to the evolving needs and threats to national security.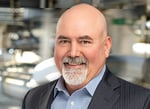 Doug Magee is President of Day & Zimmermann Government Services. Day & Zimmermann's Government Services Group is an integrated provider of mission support solutions to the U.S. Government and commercial clients. Whether the workforce is designing facilities, or operating and maintaining safe locations and assets, the Group's combined services support the national security mission in the U.S. and abroad.