This article originally appeared in the January 2023 issue of Industrial Projects Report. Read the magazine in full here.
"I had no idea what I wanted to do coming out of high school," said Debra Atterberry, a nuclear pipe welder who's been with Day & Zimmermann's Maintenance and Construction division (D&Z) for 10 years.
Growing up on the road with her mother, a D&Z scaffold builder, Debra said she never wanted to work in nuclear. But in 2013, she entered the industry at her mother's encouragement.
"My family always told me how important working in nuclear was, but it didn't hit me until I was standing on a refuel floor looking down at the refuel canal," she said. "Everyone's job here is essential to not only producing electricity for America, but also ensuring their safety. It's a feeling I can't explain, but I know all of my peers know what I'm talking about."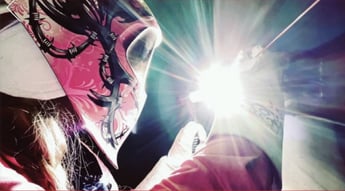 Skilled craft professionals are essential to modernizing America, maintaining our existing power grid, and building next-generation energy technology like small modular reactors and solar. Companies in the power, industrial, and government markets that D&Z serve form the backbone of the modern world.
As a leading craft employer, D&Z attracts workers to the skilled trades by training them to work safely with first-time quality and providing enough opportunities for long, satisfying careers. We annually hire over 15,000 welders, ironworkers, pipefitters, crane operators, millwrights, carpenters, scaffold builders, boilermakers, electricians, insulators, laborers, equipment operators, riggers, machinists, painters, valve technicians, radiation protection technicians, and other skilled workers for projects across the U.S.
Significant opportunities are increasingly opening to our workforce—not just to improve in their trade, but also to assume leadership roles, travel the country, mentor the next generation of workers, or even apply their skills in a new industry.
Strong Wages, On-the-Job Training, Benefits
Developing our employees throughout their careers and providing continuous employment make D&Z an industry-leading contractor. We can help you find training and make the connections to develop your skills and career path. Our "blueprinting" process schedules workers for multiple consecutive outages and assignments.
"D&Z's training and competitive wages have allowed me to enhance my trade year after year to grow within the D&Z organization," said Philip Leidig, D&Z implementation manager who started in the trades in 1994 and heard of D&Z through co-workers.
"With trades, there are opportunities for strong wages with on-the-job training and benefits," he said. "With college, there comes the student debt and the cost of room and board with a lengthy pay back plan."
"Working in a trade is hands down where it's at," said Atterberry. "It doesn't cost much to get the schooling needed, and I make just as much if not more than most people who went to school for two to four years. A lot of times there are programs that cover the cost for trade school."
D&Z partners with trade schools and community colleges on worker-training programs. We align with the National Center for Construction Education and Research (NCCER) to standardized curriculum with portable credentials and use D&Z-employed, qualified National Academy for Nuclear Training e-Learning (NANTeL) administrators to train workers. We utilize hands-on learning in the classroom and on-site and online courses using D&Z's "BetterU" e-learning platform.
We also support veterans, connecting them with resources to transfer their military experience to new careers as they transition into the civilian workforce.
"D&Z is a designated 'military friendly employer' through NCCER's Hard Hat Heroes program, which allows veterans to apply their military training to receive free construction credentials," said Antonio Ruiz (USN Retired), D&Z's veteran recruiting manager.
Various Schedules and Locations to Support Work-Life Balance
"Another experience I've witnessed with the trades is [that] it provides for a family at a young age with D&Z's strong family values," said Leidig. The benefits, competitive wages, and vacation time he receives from being in a core position with D&Z he said provide "a strong balance of lifestyle values."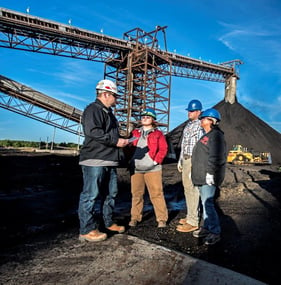 .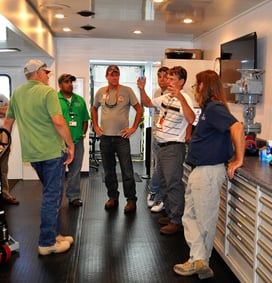 "Site management has been exceptional when it comes to working with teammates on flexibility whether it's needing time off or supporting other outages," Leidig said.
Lashunda O'Neil, D&Z nuclear coatings technician, agrees.
"Working a nuclear innage schedule allows me to work a full-time schedule in four days," said O'Neil. "This allows me to spend much-needed time with my son, who is actively involved in sports, and my family and friends. Working a nuclear outage schedule gives me the opportunity to work shiftwork that allows me to take care of personal needs while working a 12-hour shift."
With D&Z for almost 12 years, O'Neil learned about the company through her father, a former D&Z employee.
"As a child growing up all I wanted to do was be a nuclear professional like my dad who seemed to love his job," she said. "D&Z has allowed me the opportunity to get on-the-job, hands-on experience. This has helped me to grow and develop in my career path with the company."
Atterberry, who recently started working full time and not just outage season, appreciates a balance between traveling and working at one site.
"Even though I now have a 'home plant,' I still get to travel to support outages, which allows me a break of being at one plant 365 days a year," she said.
Dedicated to a Culture of Safety for All Employees
The foremost way D&Z honors family values is our safety commitment. We implement industry best practices, use innovative safety technology, and annually achieve zero-injury performance at numerous sites. Employees at all levels pride themselves on delivering a well-trained workforce that concludes each shift by returning workers home to their families safe and injury-free.
"D&Z has an awesome safety program," said O'Neil. "Safety professionals are always available. They provide active, caring coaching and positive reinforcement. They're always looking for ways to mitigate or eliminate any potential hazards."
"D&Z's site management holds weekly supervisor/safety meetings to discuss incidents that have happened throughout the company and have discussions about what actions or barriers will need to be put in place to prevent it from happening," said Leidig. "Then this information is communicated with team-level meetings along with The Betterment Report [a weekly safety-focused newsletter] and Safety Flashes [a timely communication that shares operating experience across the organization]. All of this impresses me about D&Z's commitment to safety."
Build a Career that Suits You
At D&Z, everyone's career path looks different because everyone is different. D&Z embraces diversity and offers flexibility in building a career that suits your lifestyle and interests. With offices and sites throughout the U.S., we hire all skilled craft disciplines for nuclear, fossil, solar, government, chemical, pulp and paper, and other industrial projects.
Given the influx in government funding for infrastructure projects and new power generation technology construction ramping up, demand for highly trained, productive, and safe skilled craft professionals to further modernize America is rising.
"America was built on craft professionals and is still being built by us today," said Atterberry.
We want you! Visit www.dayzimopenshop.com, follow Day & Zimmermann Open Shop Craft Labor on Facebook, or call 888-605-0272.