Understanding DEI and What it Means for Businesses and Employees
Posted on 4.13.2021 by Regina Blair
The term Diversity, Equity, and Inclusion (DEI) is heard in more and more workplaces today. Like many parts of our society, businesses are grappling with issues surrounding racial inequality in the wake of George Floyd's death and civil unrest last summer and the recent spate of hate crimes against the Asian community. Companies of all sizes, across industries, have committed to addressing systemic racism and have pledged to do better. In many cases, the phrase DEI has come to serve as an umbrella term for those efforts.
But in understanding DEI, it's important to note that as a term and an organizational goal, DEI is in fact made up of three closely related yet distinct concepts. Diversity, equity, and inclusion each have their own definitions, their own value, and their own objectives when it comes to building a better workplace. Over the next several weeks, we'll be digging deeper into each of these terms more closely in a series of posts, beginning with a look at how they build on each other and how employers can begin to enhance their broader DEI journeys.
Defining D, E, and I
Historians point to President Harry S. Truman's executive order desegregating the armed services as the first workplace diversity initiative in the United States. The formation of the U.S. Equal Employment Opportunity Commission (EEOC) as part of the 1964 Civil Rights Act mandated new hiring practices that enhanced diversity in the workplace. In the decades since, many organizations have sought to improve their diversity efforts while expanding their understanding and pursuit of equity and inclusion.
Understanding this progression and how diversity, equity, and inclusion are interrelated, begins with understanding the definition for each when it comes to realizing a more just workplace and society:
Diversity – Diversity reflects the ways in which people's characteristics differ. Diversity encompasses race, gender, religion, and other aspects of a person's identity like age, sexual orientation, relationship status, and more.
Equity – Equality entails distributing resources based on the needs of the recipients. It's about recognizing where people are, where they want to go, and ensuring they have the resources they need to get there. Equity is distinct from equality, and we'll explore the differences more in a future post.
Inclusion – Inclusion encompasses a sense of belonging within an organization and the steps the organization takes to ensure individuals are included.
In the workplace, these concepts can be combined to achieve more meaningful results. As companies enhance their values around diversity, they can take steps to foster a more equitable workplace and create programs and resources to ensure all employees and voices are included.
Day & Zimmermann's Commitment to the DEI Journey
Each organization takes a slightly different approach to DEI initiatives, and many have amplified their efforts in the last year. Yet organizations don't have to undergo this essential work in a vacuum. There are external industry groups, experts, and plenty of insights and perspectives from internal team members that can help organizations advance their DEI efforts. Companies should rely on these voices and the essential work that's been done to accelerate their DEI efforts and ensure those efforts are working toward meaningful results.
At Day & Zimmermann, we recognize these efforts are a continuous journey – we are committed to learning and doing better at every step of the way. Diversity has long been a core company value. We work every day to embed that value into our internal work, along with our partnerships with customers, suppliers, and our community. We're actively undertaking better ways of infusing the concepts of diversity, equity, and inclusion into every aspect of what we do. In coming pieces, we'll share more of what we've learned, what we've accomplished, and what more we have to do in each of these areas.
Topics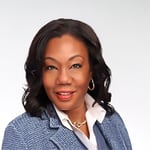 Regina Blair is an organizational development and diversity and inclusion leader currently serving as Vice President, Talent, Diversity & Inclusion at Day & Zimmermann. While key responsibilities include oversight of the engagement survey process and action planning, design and delivery of leadership development programs, the 360 assessment and coaching process for senior leaders, the corporate employee resource groups and overall diversity strategy, some of her most rewarding work comes through partnering in the design of realtime, custom talent solutions that help advance the business strategy. Career pathing, organizational design, team effectiveness and change management are all areas where her internal clients look to her for leadership.