When you hear of the Industrial Revolution, it's natural to think of the period from the 18th to 19th centuries that revolutionized manufacturing and transportation, changing the global economy and peoples' ways of life. But we've undeniably come a long way from the steam engine, particularly in terms of technological advancements. One could say we've undergone additional industrial revolutions and perhaps, more are ahead. What does this mean for us as consumers? What does this mean for us in terms of economic impacts? What does this mean for us as Day & Zimmermann?
Looking back, soon after steam changed the way of doing business and transporting goods, electricity came along resulting in another dramatic shift. Then automation became the way of the world, with businesses ramping up mass production as the new easy and cost-effective way to do things. Now, we're in a digital era where information, products and services are just a click away at our fingertips. Based on consumer demand, businesses have shifted the focus more toward developing the next latest and greatest platform, as opposed to the product itself. We've gone from taxis to Uber and Lyft, and from hotels to Airbnb, as examples.
It's nothing new that consumer demand drives the ways of businesses. However, as new technologies erase the line between the real and virtual worlds, the expectations of speed, convenience and quality of services/products are changing dramatically. Companies like Google, Facebook, LinkedIn, Apple, Amazon, Uber, Airbnb, and Tesla are racing to collect behavioral data from everyone in the world because that's where they hope to glean insights into "the next big thing" so they can be the first to develop it. These companies are getting ready to Reimagine Everything we do, think and analyze in this new digital economy because it is now feasible, affordable and viable!
As consumers adapt to this digital economy in their personal lives quickly, they'll also start demanding the same experiences in their professional lives. But for businesses, it is a transformation, evolution, another "industrial revolution". As we become increasingly digital consumers, are we, in tandem, becoming a more digitally-enabled workforce? It is not only about improving and automating our manual processes of buying and selling, hiring, onboarding, manufacturing, paying, and billing. We must reimagine the way we do, think and analyze results to transform our businesses & operations! We must reimagine the way we work, reimagine our processes relevant to what we want to achieve, and reimagine the business models.
What do you see as the next "industrial revolution"? How can we, as a company, get ahead of it?

This image (above) shows what most often happens today in the world of workforce. We 'Do', 'Think' and 'Analyze' stuff in our daily lives, and several of us drink a lot of coffee while doing so. Reimagine the current state with 'Robotics', 'Machine Learning/Cognitive Technologies' and 'Analyze' stuff to make us a more digitally transformed workforce (Although not shown, coffee will continue to co-exist in the transformed world for those who need it!)
We will continue to invest time and effort to enable our employees and customers with apps and other resources to make faster and more informed decisions in order to more effectively perform their tasks.
How can you make this better? The next time you run a report or enter data or call a colleague asking for information, reimagine and think if it is conceivable to perform that task using Robotics or Cognitive/Predictive technologies.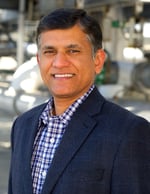 Sankara 'Vishi' Viswanathan is Senior Vice President of Business Services and Chief Information Officer for Day & Zimmermann, a leader in construction & engineering, staffing and defense solutions for leading corporations and governments around the world. Vishi brings more than twenty five years of experience in providing technology solutions, developing strategies, driving innovation and building talent. Since joining Day & Zimmermann in 2004, Vishi has held a series of progressively responsible positions to become the Chief Information Officer in 2014. Vishi holds an undergraduate degree in Mathematics from University of Madras and holds a Master of Business Administration degree from Villanova University.