When the ground-breaking science fiction show The Twilight Zone originally aired from 1959-64, it was considered revolutionary and wildly far-fetched at the time. One of the episodes played out a "battle between flesh and steel" when a CEO began replacing employees with machines. A mind-blowing notion at the time, yes. But today, we can walk into a burger joint and have our meal prepared by a robot. Artificial intelligence (AI), the intelligence demonstrated by machines, as opposed to natural intelligence (NI) displayed by humans and other animals, is not only a real thing, but a rapidly-advancing and innovative field. Perhaps most notably in the automobile industry with self-driving cars, AI has worked its way into a variety of industries including medicine, construction, agriculture and more. It is now becoming more and more woven into our everyday lives with smart devices, social media sites and many popular apps that monitor, record and learn from EVERYTHING we do. In general, it is improving the quality of our lives.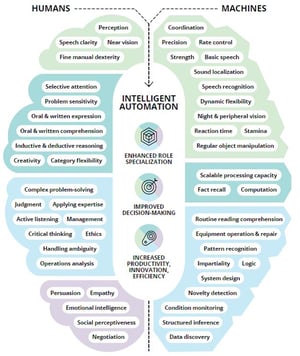 But this isn't without controversy and fear that machines will, in fact, replace humans. While nobody can predict the future accurately, the fear of robots replacing humans in work is a misconception. AI is not about replacing humans. It is about augmenting human productivity and performance and freeing up humans to do more human work. In a recently published article, "Tech Trends 2018: The symphonic enterprise" Deloitte Insights proposes embracing the "no-collar workforce," saying it's time to reinvent the workplace so humans and machines become co-workers, "complementing and enhancing the other's efforts." If retail banking transactions were automated, bank tellers would be able to spend more time interacting with and advising customers—and selling products, Deloitte shares as an example.
As with any evolution and culture shift, questions and challenges will arise. Deloitte notes that Human Resources, in particular, will be faced with questions around performance management, and even onboarding and retiring non-human workers. Another facet will be ownership of the "no-collar" employees – Technology Teams can certainly own implementation and maintenance, but who, and how, are they managed in terms of their job and functional role? "Building a no-collar workforce requires deliberate planning … It will require new ways of thinking about jobs, enterprise culture, technology, and, most importantly, people." Deloitte notes that "there is no shame in being counted among the 83 percent (of businesses) who don't have all the answers" to such questions. AI in the workplace and building a no-collar workforce is more "like a promising journey of discovery than a clearly delineated sprint toward a finish line." This is true in most cases where innovation is so groundbreaking that you truly can't project with total accuracy what the impact will be.
As our Chair & CEO Hal Yoh believes, there are many benefits to the multi-generational workforce we are committed to here at D&Z. Will we, too, evolve into a "no-collar workforce"? How could we benefit? What challenges would we likely face? Please share your comments.
Topics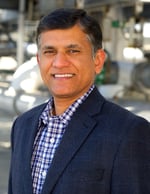 Sankara 'Vishi' Viswanathan is Senior Vice President of Business Services and Chief Information Officer for Day & Zimmermann, a leader in construction & engineering, staffing and defense solutions for leading corporations and governments around the world. Vishi brings more than twenty five years of experience in providing technology solutions, developing strategies, driving innovation and building talent. Since joining Day & Zimmermann in 2004, Vishi has held a series of progressively responsible positions to become the Chief Information Officer in 2014. Vishi holds an undergraduate degree in Mathematics from University of Madras and holds a Master of Business Administration degree from Villanova University.