Meet Louis...
"I really love working with the people out here in Hawthorne, Nevada, and I enjoy sharing in their successes."
Tell me about what you do for Day & Zimmermann.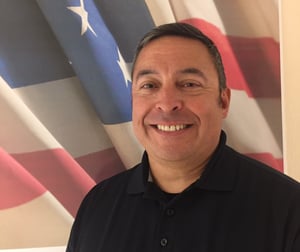 Tell us about what you do!
As the Director of Munitions & Logistics, I am responsible for leading our demilitarization efforts, as well storage, receipts, and issues of items that go to and from the installation. I also interface with the U.S. government customer to ensure we are providing the services required under the current contract.
How would you describe your job to someone who isn't familiar with your line of work?
I manage personnel that conduct the demilitarization of ordnance. Through the demilitarization of ordnance, these personnel reduce the stocks while ensuring the recycling of raw materials that can be sold as scrap and reused in the future. Also, I oversee personnel responsible for receiving items destined for storage in Hawthorne. Our personnel ensure that items, arriving via truck or rail, are off-loaded safely, documented, and positioned in magazine storage. In addition, I provide oversight to our personnel and processes responsible for shipping ordnance from Hawthorne.
A primary role in my employment is being the main interface with the U.S. government customer for all things ammunition-related at the installation.
How did you first get involved in munitions & logistics, specifically for SOC?
Being a lifelong resident of Hawthorne, it was an easy decision to move back to Nevada following a 28 year career serving in the US Navy. When I saw this position open, I applied. While in the military, most of my experience with ammunition was spent as the end-user, rather than managing or storing ordnance. However, my mission focus and experience managing large numbers personnel were a great fit for the position.
What is the most challenging part of your job?
There are definitely a number of challenges! Right now, one of the greatest challenges is managing the current stocks available for demilitarization. In the past, there were large lots of ammunition that could be demilitarized over several months or even year. Unfortunately, the days of large quantity lots are gone and our personnel are now processing several small lots containing items that vary from week to week. Every item change requires a new setup, new standard operating procedure, a new line set up, and sometimes equipment changes. It ultimately means our personnel are modifying or learning a new process every couple weeks.
What is the most rewarding part of your job?
I enjoy seeing our team's hard work and process development come to fruition. It is rewarding to see a large group of people come together, make a plan, and ensure that the plan is successful. Because we are constantly changing processes, there are a lot of opportunities to succeed, but it also provides a lot of opportunities to fail. So, when we are successful at building something from the ground up, it is incredibly rewarding and satisfying sharing in that success.