Meet Jameel...
"

We want to make sure that people are looking for not just the old solutions, but also the new innovative ways of how we do things

"
Tell us what you do for Day & Zimmermann.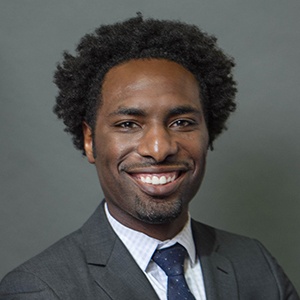 I am one of the directors of organizational development here at Day & Zimmermann. We support a few of our enterprise programs, so that includes the performance management process, our mentoring program and one of our leadership development series programs. I also support the Engineering, Construction and Maintenance (ECM) business as well as the Munitions group, from a talent management perspective. That can include a host of things, anything from training to leadership development, to change management, talent development, so on and so forth.
If you were explaining what you do to a child, what would you say?
I help people become a better employee or a better manager. I do that by putting them through training to teach them how to do it, or we talk to their leaders about what they can give their employees in their day-to-day to help them to become better.
What are you trying to accomplish with the programs that you oversee?
We try to help our managers and leaders be more effective in the way they grow and develop talent. We want to help them to be more effective inside of their operating roles, and we want our employees to have the tools and opportunity to create a meaningful career here at Day & Zimmerman – so they get to come in and do their best every day.
Why did you want to get into HR?
The great thing about HR to me is that companies put in all this effort into refining their product, refining their offers to clients and customers, but the reality is that the most important asset that any company has is their people and the services they provide. So, what attracted me to HR is that there's this function that's dedicated to refining the human element of a company, or the human resource. So being in a field where your entire focus is how we optimize that part of the business is what stood out to me and why I wanted to jump in.
What has changed about the HR industry over the course of your career?
I think there's a couple of things – one is the role of human resources has changed drastically in the last ten to fifteen years. HR is no longer the rules and regulations guy, or woman. It's no longer the group that you go to say no. It's really about understanding business priorities and taking that lens of HR and helping the company achieve their business goals.
Another thing is I think the way that people look at their jobs has drastically changed over the last ten to fifteen years. People only spend so much time with a company as long as they feel that they're getting what they need out of it. So loyalty has dropped – and that's not to be a negative thing – it just shows that if a better opportunity comes along, people are going to take it, and they're not going to stay just because they feel an affinity towards the company.
A lot of times this gets associated to younger generations, but the reality is that this has started to happen in all of our generations with an organization. People are constantly looking at 'what am I getting out of this beyond just getting paid' so we need to be even more diligent HR professionals so we can make sure we know what their needs are and that we meet them.
What is the most challenging part of your job?
I think, at D&Z, we are a turning point as an organization. We realize we've been very successful for the last, almost 120 years or so, but recognizing that what we've done and what has made us successful in the past 120 years is probably not going to be what's going to make us successful in the next 120 years. So, as we see our organization changing, we see that perspective changing for leaders and the organization. We want to make sure that people are looking for not just the old solutions, but also the new innovative ways of how we do things. It's difficult and fun – it's the challenge of it all.
What advice would you give to somebody considering this profession?
I would say it's more than just liking people – very often people come to HR, you ask them why and they say 'oh, well I just like people'. It's about making sure you are intentional about understanding your business, and then using your understanding and knowledge of growing people and growing talent to help identify solutions to business goals and priorities. If that's your focus coming in as a HR person, people will come to you as a strategic business partner, versus just someone they need to handle employee relations issues with.